This magnet features a nighttime photograph of the city
and the Duquesne Incline. The little red incline car can
really move along its track! And, if you press and hold
the top left corner, the Point lights up too!
$6.99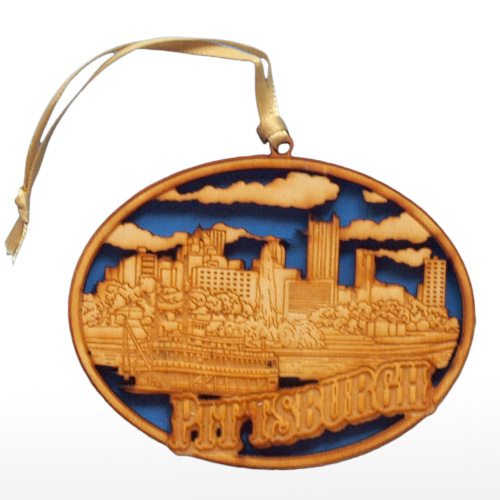 Our wooden Pittsburgh ornament featuring the iconic city skyline
is sure to bring a little Pittsburgh love to any Christmas tree.
With wood-burned and etched pieces, this ornament has a much more
natural aesthetic that compliments the beauty of any tree.
$5.99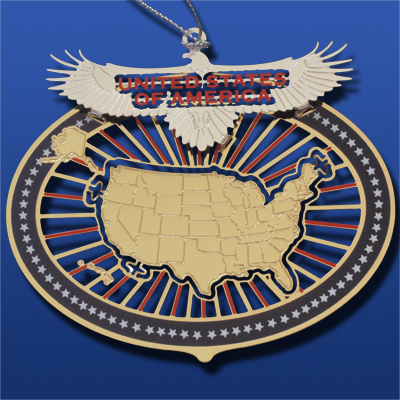 Gaining our independence in 1776, the United States
remains a beacon of hope and freedom for the world at large.
From sea to shining sea, the diversity of each culture, religion, and tradition
fuses together to create the great "Melting Pot" that grants each
proud citizen "life, liberty, and the pursuit of happiness".
$12.99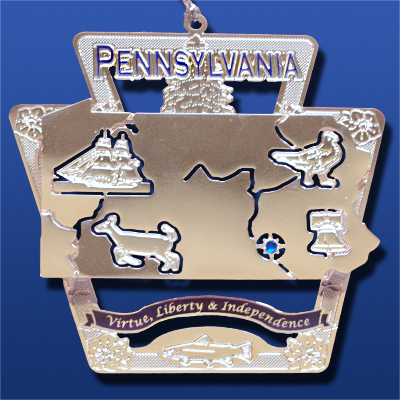 This ornament is a wonderful keepsake for
Pennsylvania residents or tourists who want to
remember their visit to this special state.
$20.99
Since 1909 the Pittsburgh Police Motorcycle Unit
has helped to keep the city safe.
This ornament is a great way to remember
them during the holidays.
$10.99
From 1909-1970 Forbes Field was home to the Pittsburgh Pirates,
the Pittsburgh Steelers and the Homestead Grays.
This ornament is a great keepsake for any baseball fan!
$10.99
Once known as the Civic Arena, Mellon Arena, was home to
the Pittsburgh Penguins from 1967 to 2010.
This ornament is a great tribute to the old home
of the Pittsburgh Penguins.
$10.99
The Horne's Tree at the corner of Stanwix St. and Penn Ave.
can be seen for many blocks every holiday season.
This is a Pittsburgh tradition that has lasted and will last many years.
Just like this ornament.
$10.99
Anyone with a sense of humor and a Terrible Towel should own this ornament.
"Blitzburgh. A drinking town with a football problem."
Yep! That's us.
Collect the Blitzburgh snow globe too!
$10.99
Anyone who lives in Pittsburgh or visits it needs to ride up
the Duquesne Incline and see the glorious view of downtown.
$10.99
More items »
Copyright © Accentricity all rights reserved