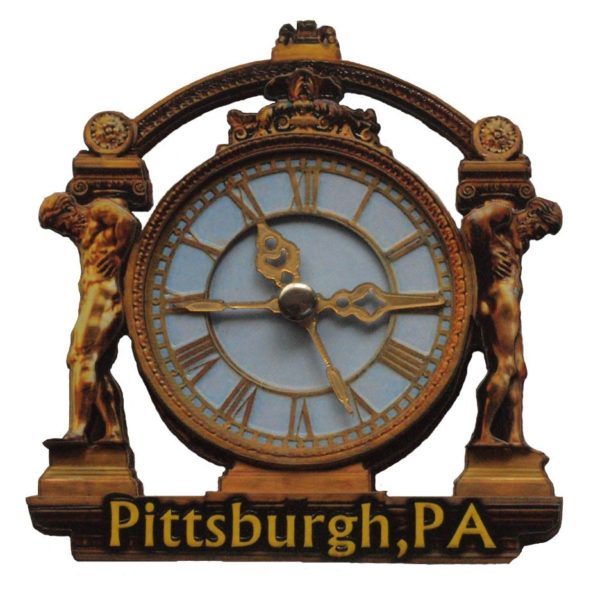 Let the iconic phrase "Let's meet under the Kaufmann's Clock"
never be forgotten with this beautiful, vintage magnet. The hands on the clock really move!
As one of the true historical treasures of Downtown Pittsburgh, this magnet is the
perfect way to show some love for the city we call home. Note: Not an actual time-keeping device.
$6.99
The Duquesne Incline is one of the most iconic landmarks in the city.
$6.99
This magnet features an ariel view of the city
and Point State Park during the daytime.
$4.99
Pittsburghers rejoiced when this iconic Pittsburgh word was officially recognized
and added to the Oxford English Dictionary!
Adding it to any fridge or magnetic surface is sure to
make you feel like a tried and true Pittsburgher!
$4.99
Add a little piece of Pittsburgh to your refrigerator
with our charming wooden magnet. Featuring the
Pittsburgh skyline and the word "Pittsburgh"
wood-burned in a whimsical text, this is the
perfect gift for collectors and visitors alike!
$4.99
This cool license plate magnet is a visual treat for those living in the 'Burgh
and those who visit our fair city. Modeled after our Pennsylvania plate,
it's a fun way to remember your visit or to show how much you love Pittsburgh!
$2.99
This image of the Duquesne Incline with the
City of Pittsburgh is a city icon.
This flexible magnet will be a great keepsake!
$4.49
This large colorful magnet features our iconic Fountain at the Point.
The fountain is one of the many things that people like about the city.
Here's hoping this souvenir item will help you remember it for a long time.
$4.49
No city does fireworks like Pittsburgh.
While we don't have them every day, this souvenir magnet will always
remind you of one of the best things about Pittsburgh.
$4.49
Like Zombies?
If the answer is YES, this flexible magnet is for you.
If the answer is NO, turn your brains over!
$4.49 
More items »
Copyright © Accentricity all rights reserved