This magnet features a nighttime photograph of the city
and the Duquesne Incline. The little red incline car can
really move along its track! And, if you press and hold
the top left corner, the Point lights up too!
$6.99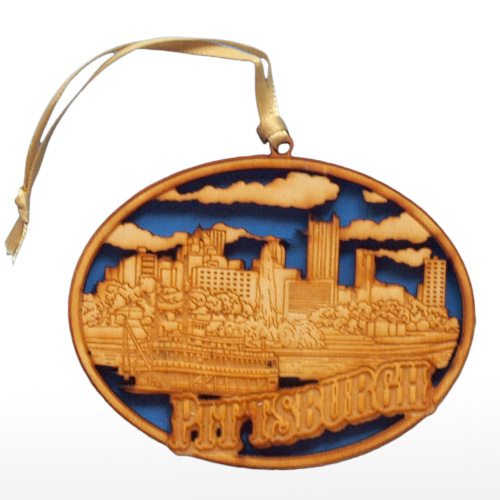 Our wooden Pittsburgh ornament featuring the iconic city skyline
is sure to bring a little Pittsburgh love to any Christmas tree.
With wood-burned and etched pieces, this ornament has a much more
natural aesthetic that compliments the beauty of any tree.
$5.99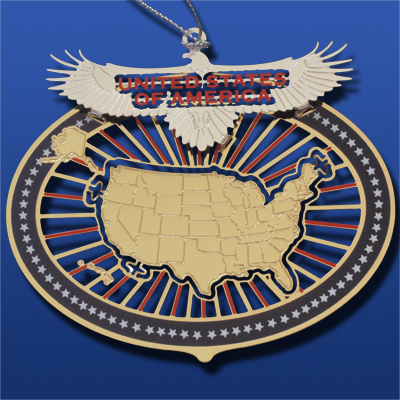 Gaining our independence in 1776, the United States
remains a beacon of hope and freedom for the world at large.
From sea to shining sea, the diversity of each culture, religion, and tradition
fuses together to create the great "Melting Pot" that grants each
proud citizen "life, liberty, and the pursuit of happiness".
$12.99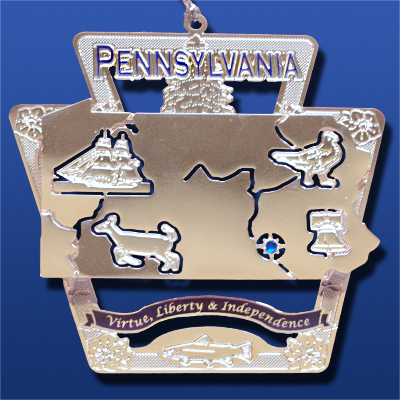 This ornament is a wonderful keepsake for
Pennsylvania residents or tourists who want to
remember their visit to this special state.
$20.99
Our Pittsburgh decal is the perfect addition to any car
and lets you bring a piece of Pittsburgh wherever you go.
Whether you are near or far, Pittsburgh is always in your heart.
$5.99
Take your love of Pittsburgh wherever you roam with our
charming novelty license plate. Complete with a red heart,
this is the perfect gift for the Pittsburgh lover in
your life. After all, home is where the heart is.
$10.99
Made out of real wood this train is sure to put a smile on the face of
youngsters or those who are young at heart.
Perfect for every Steelers fan!
Officially Licenced
$12.99
Cat's Meow Signboard
Fireworks light up the sky over Pittsburgh and The Point
in this eloquent signboard.
$21.99
You might need to learn the language of the natives, Pittsburghese,
to truly get everything out of Pittsburgh.
$17.99
We are happy to add this unique pillow bear to our line
of children's souvenir items.
Closed or open this makes a great friend for kids!
$16.99
More items »
Copyright © Accentricity all rights reserved